We all know that Instagram is a great way to share your photos and videos with your friends, family, and random people all across the globe. If you're posting a lot of content but you are not getting as many likes as you want, follow these easy five steps to learn how to get more likes.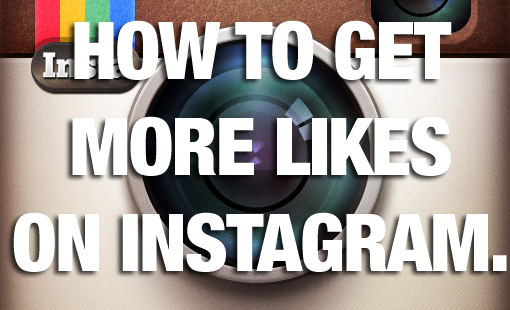 #1 Post your photos at the right time.
You could post the most amazing image in the whole world, but no one will like it because when you post at an incorrect time your followers may be asleep. The most activity will happen in the first few hours, so make sure to post when most of your fans are actually up. But how to know when your fans aren't actually sleeping? You need to figure out where the majority of followers come from (which country) and compare their timezone to your timezone. You can find out where your followers live by using the Iconosquare app. Iconsquare is a statistic gathering application, it will tell you which country your fans are from. Simply visit http://Iconosquare.com and login with your account credentials, authorize the app and in a few hours you will receive all the necessary info.
#2 Use hashtags.
Hashtags are a very simple way to categorize your photos with keywords. They can help you be discovered by other users, which will make your photos more likely to be liked. The more hashtags you use, the more often your photos will be viewed. Popular accounts use up to 50 hashtags per photo, it may sound like a lot of work but this way Instagram will link your photo in their search results. Without tags the system will not know what is on your photo. For example, if you take a picture of your dog, some hashtags you can use are #pet, #dog, and #bestfriend.
#3 Post relevant photos.
Lots of people will post anything that comes to mind from their dinner, cat, or their empty beer bottles. If you want more likes, think of Instagram as your gallery. Its purpose should be to display only your best, highest quality pictures in order to stand out. If you're running a specific niche type of account, you need to make sure to stay on topic. Do not post boats on an automotive related account, or delicious cake pictures on a fitness related page. Your followers started liking you for a reason, keep giving them what they have originally signed up for.
#4 Be active.
In order to receive, you have to give. Take the time to comment on a followers picture, or to like a photo that you see. The more often you do this, the more likely people will be to reciprocate. Engage in comment discussions on popular photos, especially celebrity posts, as they're usually high traffic accounts. Stay on topic and people will follow you. For example, if Kanye West posts a picture try to include a funny joke related to him, you would be surprised how many people will follow you.
#5 Post quality, not quantity.
One good photo is better than 100 average posts. Don't just grab any image from the web and expect to become the next viral wonder. Be creative, because the most important thing to remember is that good content is king! If you truly have the ability and wit to post quality material then people will find you, without hashtags, without apps or tricks. This is the beauty of social media, it is the ultimate word of mouth advertising. If you post it and it is good, they will come.