Adobe's latest iPhone application turns your photos into promotional posters.
Adobe Inc is releasing a bunch of new applications designed to help you be more creative with your photo editing projects. Its latest iOS app, aptly named Adobe Post, is an easy way to design Instagram worthy inspirational or promotional posters. The concept is so simple yet so clever that we're mad that we didn't think of it first. For business owners, brands, and regular Joe's who need to promote themselves on social media, Adobe Post is a free, easy to use application that helps create captions on images like the one below: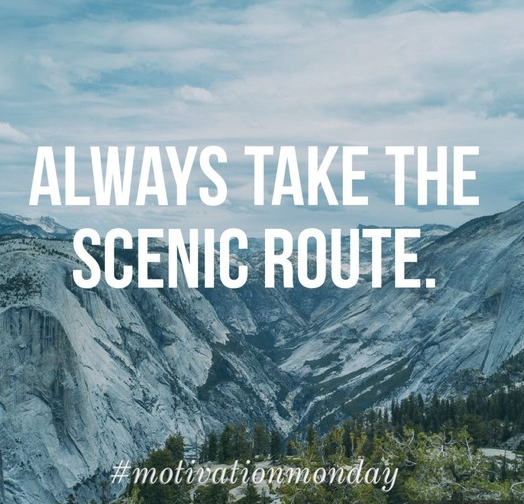 Thibault Imbert, Adobe's principal product manager:
"Being social savvy is hard. It's hard because not only do you need to create beautiful things every day to engage with your followers, but you need to do it a lot. Most people don't have the design skills or the time."
This is where Adobe Post comes in. Getting started is very simple. First, choose a photo from your camera roll, search through your Lightroom or Creative Cloud libraries, or just shoot a new image. To make it even easier, you can also remix an image from the applications built-in inspiration board, which has stock photos that are separated into categories such as relationships, seasonal, travel, food, and business.
You can virtually tweak all the aspects of the photo, from the text, which changes shape and size as you adjust the size of the box, to the colors, sharpness, alignment, and even spacing. You can even use built-in design filters, which will perform all the work for you. We have used a design filter for the right-hand image below, and started from scratch with the image on the left side: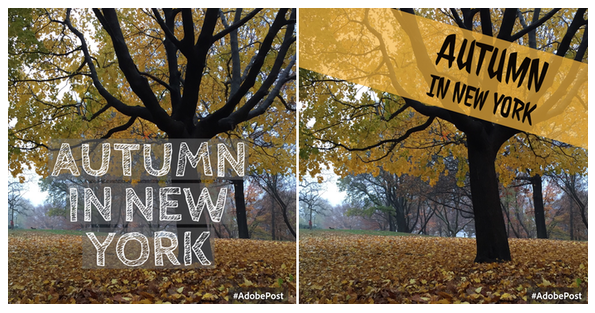 But it is not all pretty, as there is one feature we really dislike about this app. Adobe Post automatically watermarks your photos with a hashtag, as you can see in the images above. The only way to remove that intrusive watermark is by sharing the application with a friend. The good news is that you only have to share the application once to fully banish the watermark from all photos you create going forward. Can't blame Adobe, as they're only trying to spread their app. However, a paid option to remove the watermark would be appreciated by many who don't wish to spam their friends with applications.
But lets forget about the annoying watermark, Adobe Post is a fun application that perfectly fits into the portfolio of social media tools that marketers (and everyday users) use. Adobe Post is available in the App Store now for English-speaking iPhone users. Now as cool as this app is, it could easily be rendered obsolete if Instagram ever decides to "borrow" some of its features, and knowing how cutthroat the app business really is, we wouldn't be surprised if that happened sooner than later.