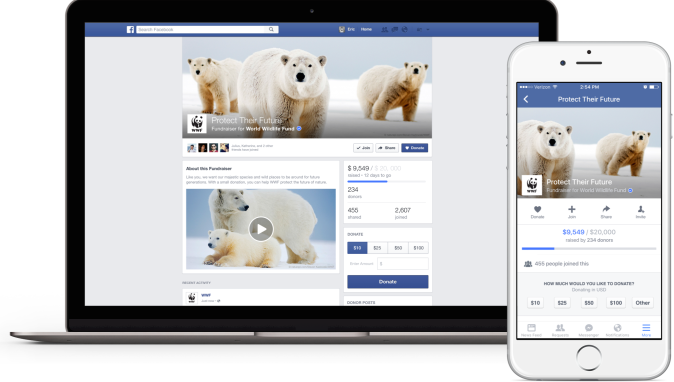 Facebook is on a mission to expand its services into every venture they possibly can, and now it looks like it could invade crowdfunding. Today the company announced a new Kickstarter type of fundraiser product, which allows nonprofits to set up a campaign page, show off a video, collect money, and let people share news feed posts with buttons so their friends can instantly contribute without actually clicking to a new page. But if you just take the "non-" out of "nonprofit," what Facebook has built becomes a highly viral Kickstarter competitor.
From facebook's newsroom:
With more than 150 million people around the world connected to a cause, Facebook is a global community of volunteers, donors and activists coming together to make the world a better place.

People raise money for disaster relief, they search for missing children, and they bring attention to the issues they care about. We've seen from our community that when people take action, lives are changed. We know we can do more to enable these connections.

Today we're testing fundraisers – a new tool – and improving our Donate button, to allow people to donate to charities without leaving Facebook. We hope these features help nonprofits reach new supporters, engage their community and get the valuable funding they need to continue their good work.

In 2013, we first tested different ways for nonprofits to fundraise on Facebook. As a company we have also partnered with organizations to create donation campaigns after major natural disasters, like the Nepal earthquake. And we hope these new tools will help these groups do even more.
It is no secret that social networks drive an enormous percentage of crowdfunding donations. Very few people are just browsing Kickstarter desperate to spend cash on projects that may never see the production line. Even campaigns featured by Kickstarter only get about 25% of their traffic that way. Most campaigns rely on promotion to their own social properties and re-sharing through places like Facebook, Twitter and Instagram to raise funds.
The main problem is that to actually donate money, people have to leave the social websites/apps and visit the campaign's page on Kickstarter. That's a big problem. There, they might not have billing info on file, so they'll have to enter it. More problems. Then they're an extra click away from sharing the campaign back to their own friends on Facebook. Even more inconvenience.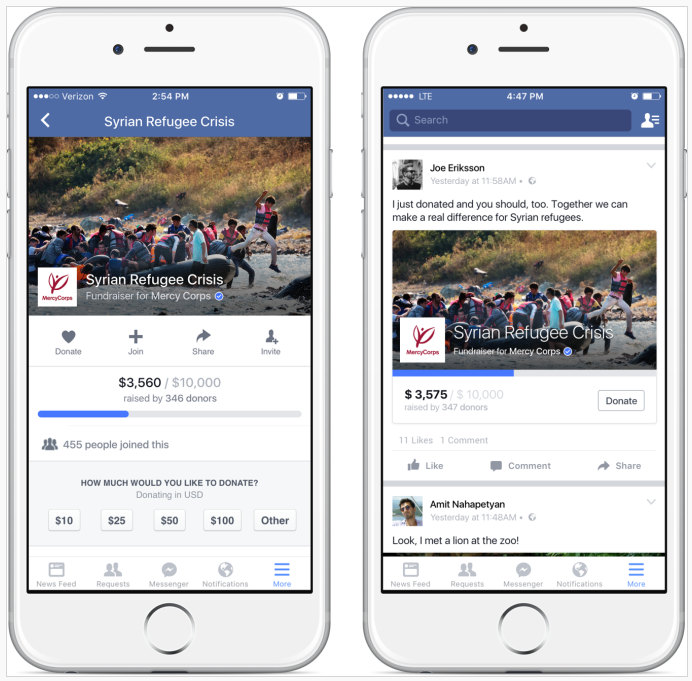 Facebook addresses all the issues mentioned above, it has set out to fix all these problems and difficulties. Facebook reports that "shaving a little time or effort off a user experience can trigger massive benefits".  Crowdfunding campaigns on Facebook could offer discovery, payment and virality all built into a single platform. The Fundraiser feature already lets users who want to support a campaign without spending money "Join" to receive updates, share to their news feed, or easily invite family and friends. The social network provides better ways for organizers to stay in touch with donors and encourage sharing than a dedicated crowdfunding site like Kickstarter ever could.
So why is Facebook trying to get into this business? Well there is a good chance to make money for its shareholders, but just how? Crowdfunding campaigns could lure in more payment info, as people may be inspired to go through the one-time set-up flow to back a friend's campaign or a particular cause that touches their values. That payment info helps all of facebook's other products. Once crowdfunding campaigns go live on Facebook organizers will advertise on Facebook Ads to promote them. You already see plenty of ads from the social network to projects on Kickstarter. But some users are undoubtedly discouraged from clicking because they don't want to interrupt their Facebook experience.
But there are tons of ways this whole project could crash and burn. Kickstarter is often abused by fake campaigns that are only created to lure money out of people who were careless enough to donate. Crowdsourcing campaigns require constant quality control and staff overview to keep the bad apples away. Kickstarter has a good track record and reputation in that field. On the other hand, Facebook is notoriously known for having a very slow and often unhelpful customer service, which might be a huge problem down the road. Only time will tell if Facebook can give Kickstarter a run for their money.