The statistics chart seen below provides information on the most popular social networks as of December 2015, ranked by a number of active accounts. Current leader (Facebook) was the first social network to top one billion registered users. Facebook's recently acquired company (Instagram), had over 402 million monthly active accounts. But how do the other companies rank?
Leading social networks as of November 2015, ranked by number of users (in millions)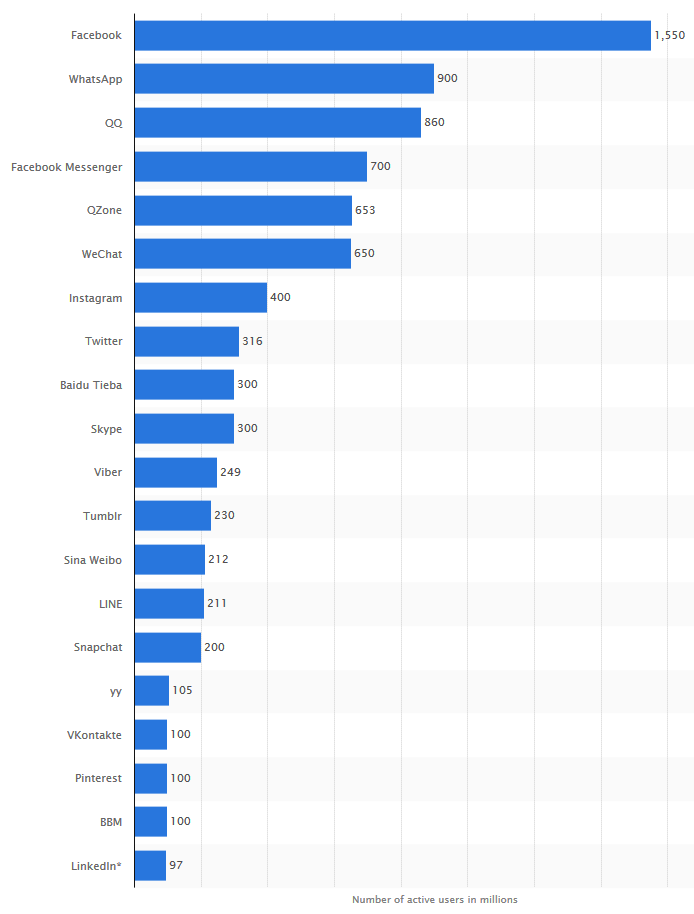 The biggest social platforms are available in multiple languages and enable users to connect with friends and family. Back in 2012, more than two billion Internet users accessed social networks, and these figures are still growing as mobile device usage increasingly gains traction. Social platform usage by consumers is very diverse. For example, platforms such as Facebook or G+ are highly focused on the interaction between friends and family, and are constantly encouraging engagement through features like photo or status sharing. On the other hand, microblogging networks like Twitter or Tumblr are all about fast communication. But how long will the top contenders actually stay on top? New apps and platforms are born almost every day, and judging from history we can assume that no one in that top chart list is safe. WhatsApp might be a good contender to replace Facebook, or at least dethrone it as the most popular one. Another thing to consider is that the new generation of users are going fully mobile, and they don't find Facebook too appealing.
It is safe to say that in the next five years we will see a significant shift in how people interact online, but who will be the new king is only up to the users to decide.