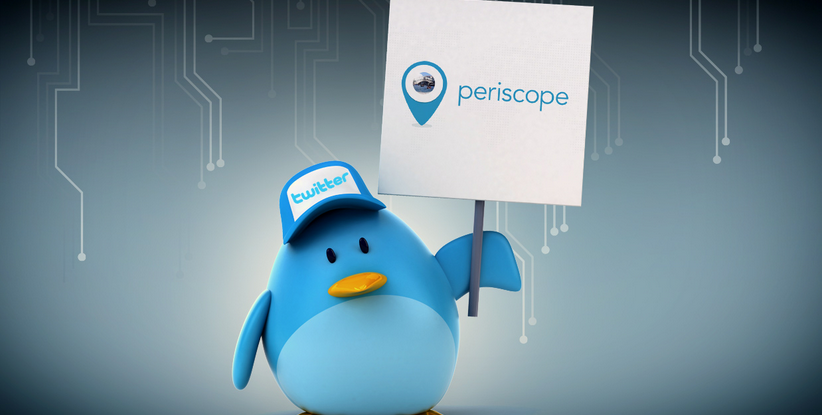 Ok, it is not really a new feature, it is more of a marriage between Twitter and a popular streaming application named Periscope. If you didn't notice yet, the merge of the two apps went live three days ago. Now, instead of seeing a link every time someone you follow begins a broadcast on Periscope, you will see the broadcast live, right in your timeline. Currently, this new feature is only enabled on Twitter's mobile application, but it will soon expand onto the desktop version. Twitter's main goal always was to be THE main social network for "what's happening right this second", and what better way to achieve that than by showing live videos on users news feed.
The merge of Periscope and Twitter has been in the making for a while now. Kayvon Beykpour, the CEO of Periscope, first began talks with Twitter about an acquisition. They talked about all the things they could do better as compatriots, versus working as two separate companies. Their primary goal was to integrate streams right into Twitter, so more people could see and easily watch their favorite users.
Currently, the new feature is a little limited, as you can't comment on streams. In order to participate you will have to tap the "Open Periscope to Chat" link, which is located on the top of the streaming video. But you can however retweet, like, or reply, just like with any other tweet. In reality, it feels like more of a new Twitter feature than a Periscope one. On the bottom of each stream you will have a little red badge that says "Live," and it will also display the viewer count.
Mr. Aaron Wasserman, Periscope's primary developer, said:
"We haven't explicitly decided that we don't want to do

[hearts and comments], but for us a really important place to start, a really important focal point, was making it really easy. No account needed, you don't have to download the app, you can have never heard of Periscope and as quickly as possible experience it."

There are a lot more features that will be added into this new merge, but the developers wanted to start small and "test the waters." Hypothetically speaking, showing live feeds in the timeline opens up a huge new audience of viewers for each broadcaster. No longer will a user have to download a separate app to join, it is all integrated and very easy to use.

Periscope also announced that till this date it hosted more than 100 million broadcasts since it launched back in March 2015. This fun app has found its way even with competition from Facebook, Ustream, and many others. The only downside to this merge, from mobile users stand point, is the enormous bandwidth consumption that this feature might cause. If broadcasts are set on autoplay, just scrolling down your feed could cost you a hefty chunk of data, and we all know how expensive mobile transfers can get.