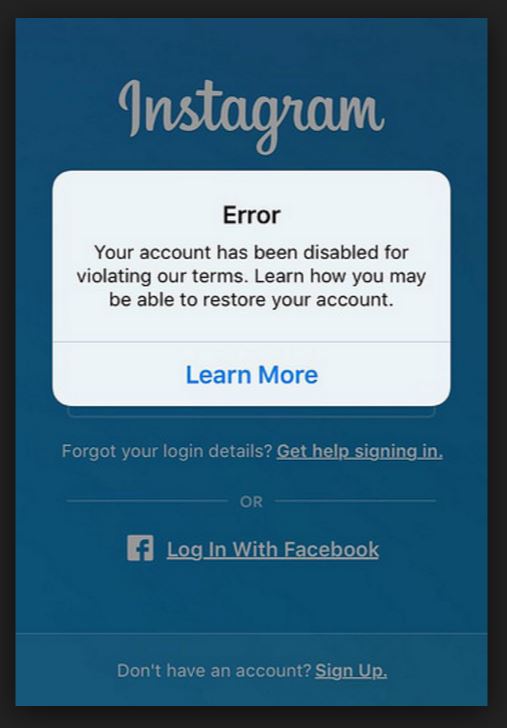 The message you see above is something no Instagram user wants to experience, but sometimes we all slip-up and get our accounts in trouble. Whether you posted risque photos of half-naked women or went a little too far with a joke, it won't matter in the end. Once Instagram moderators get their hands on your rule violating post, they might instantly terminate your account. According to Instagram's terms of service, a single infraction is enough to permanently and irreversibly delete your account. With such strict conditions, it seems that people who lost their accounts have no hope of retrieving them back. Well, this may not be necessarily true, according to a BlackHatWorld.com user named snrpro. BlackHatWorld is a widely known marketing forum, where users from all around the world collaborate on the latest marketing tricks. According to his post, circumventing the irreversible Instagram bans is quite easy, and it requires a few simple steps.
Mr. snrpro writes:
Ok so lately some of the accounts that I purchased have been getting disabled (sometimes twice in a weeks time) and I managed to get them all back multiple times so I'll share what I did.

If you're receiving a message saying your account has been disabled for violating terms they give you the option of "letting them know" if they made a mistake. As far as my testing has gone, this has worked once for me. If it gets disabled multiple times they will say it CAN NOT be restored. BUT there's a way around that. You can claim that it was hacked!

First go to this URL:https://help.instagram.com/contact/740949042640030

Click "my account"

Then click NO (even if you can access the email account).

Enter the email address you'd like for them to contact you on.

Enter your username.

Enter the email address you used to set up the account.

I personally chose this option but I think you can use any of them: This account contains pictures that I've created or produced, but I'm not in themI clicked No.

I clicked Someone I don't know.

For how they accessed my account I put "Not sure."

Then upload a photo from your account. I actually don't think this is even that important because on some of my accounts I wasn't even sure which photo was on which account so it may have been wrong.

Then I received an email requesting the following…

1. A brief description of the issue you're experiencing, including the date you last had access to your account and how you lost access
2. The email address you used to sign up for your account

So I sent this exact response (just removed my personal info). The email below is actually true. I was sending them emails from the email address on the account but they kept bouncing back to me for some reason but they did work from a hotmail address I had.

They then responded with this…

I did exactly that and my account was restored within a few business days.

Hope that helps some of you! Let me know if you have any questions.
Claim your account was hacked!
It seems that getting your account back is as simple as lying a little, and telling Instagram support that your account was hacked. As primitive as it sounds, the method actually works. Reports from all around the web, including emails from our members, confirm that this simple trick is the only viable way of getting around infraction bans. Why wouldn't it work? After all, you didn't post that photo, it was a hacker, right? :)
If you happen to successfully use this method to get your banned Instagram account back, we would love to hear about it. Use the comment section below to tell us your story.
Source: https://www.blackhatworld.com/seo/method-get-your-disabled-instagram-account-back.834474/