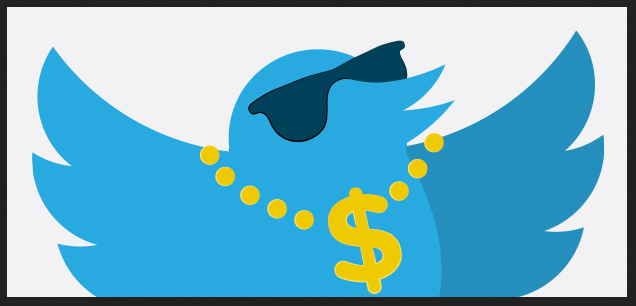 It is no secret that social media accounts can be worth a lot of money, but how do you figure out the actual value of your property? Today we will be reviewing two popular websites (Tweetvalue.com & Twalue.com) that most Twitter users go to, in order to find out how much their accounts are worth. Being in the business of buying and selling, we have noticed an influx of trashy/low volume accounts being submitted to our website, with unbelievably high price tags. This prompted us to investigate, and after digging around, we have discovered that most of our clients are being misguided by the services reviewed in this article.
Let's start with Twalue.com
Domain registration info: Private
Registered on: 2010
Screenshot of the homepage: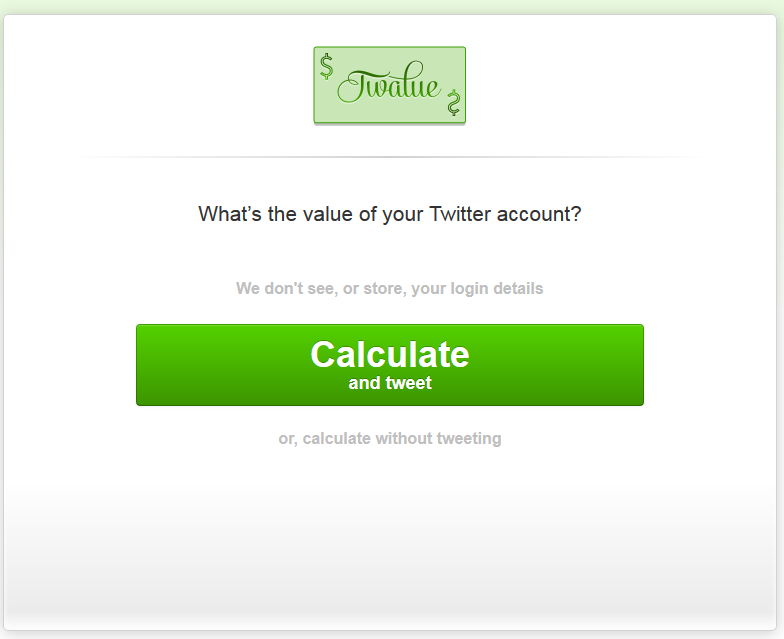 Twalue.com is the most popular website Twitter users go to in order to find out how much their accounts are worth. However, their website is basically a one-page lander, and it provides no crucial information on how these accounts are actually calculated. When you enter the site, all you have is a big green button that takes you to their Twitter-based application, which supposedly needs access to your account in order to calculate its worth. But how does it precisely calculate the value? What does it look for? Does it check for activity? What does the process look like? Does it check for fake followers? None of that information is provided, and you can't even find a 'contact us' page where you could actually ask. There is no way to contact the website owners, as they have purposely hidden their domain registration info. This has "iffy" written all over it, and it gets even "iffier" if you actually install their app. For the sake of this review, lets follow through with their application on our very own Twitter account (@fanpagecash), which has roughly 2100 followers. After a brief loading screen, the website was almost instantly able to provide the value of our account, which according to them is $1,840.67.

Wooo Hooo, time to go shopping, right? Wrong. First of all, we have never in our lifetime seen a 2100 follower account sell for this much, and we have been buying and selling accounts since 2010. Second of all, the amount of time it took for Twalue to actually conclude this estimation was only 1-2 seconds, which is a dead giveaway that their app does not go over each follower. It would take immense processing power to go over each twitter follower to check if the accounts are real, and there is no way that can be done in 1-2 seconds. So, what does Twalue check for? Well, to our surprise, we did finally see an official explanation on how the process works, however, only after we have allowed their Twitter application onto our account.
From their website:
How is your Twalue calculated?
The number of followers you have is the base number.
The more people you follow, the lower your Twalue will be.
Lists contribute a small amount to your Twalue.
The faster you've gained your followers, the higher your Twalue will be.
So it seems like they only go by a few unimportant factors, and some of them actually should never be used as a measurement of value.
"The faster you've gained your followers, the higher your Twalue will be."
This is probably the one we have the biggest problem with because gaining followers fast is a dead give away of fake/botted accounts. When people usually want to increase their followers by unapproved means they look for fake follower providers. Upon purchase, clever providers are able to increase your follower count in just a few hours. If Twalue.com really takes this under consideration as a positive thing, then their estimations are worthless and should not be taken seriously. Estimating the value of a Twitter account is actually a lot more difficult, and they're not ranked only by the number of followers but by a variety of factors such as:
Activity. High-value accounts have many favs/retweets per post.
Follower geo-location. For example, followers from the US are worth a lot more than German-based fans.
Twitter name / topic / niche. For example, fitness-based accounts are worth much more than personal accounts.
Account age
Account language
Amount of people followed
Amount of tweets
Twalue takes none of these factors under consideration, so their estimations are pretty much worthless. So why would anyone ever create such a service? What does Twalue.com gain from this wrongful information? We have a pretty good idea why, and that idea is called ad revenue. Their website makes money every time someone visits it, mainly because they have a sponsored banner ad right on the main page. When you install their application, it automatically posts to your Twitter feed, and that tweet contains a link to their website (see screenshot below).

Naturally, some of your followers will follow through on that tweet, only to spread their message even further. This somewhat creates a viral effect for Twalue, bringing in thousands of visitors to their website, and more visitors equals more money. Now there is nothing wrong with their business model, as we're all trying to make money. However, Twalue.com should only be used a novelty app, and in no way it should be used as a measurement tool to determine the true value of a Twitter account.
Let's onto the second site, Tweetvalue.com
Domain registration info: Private
Registered on: 2008
Screenshot of the homepage: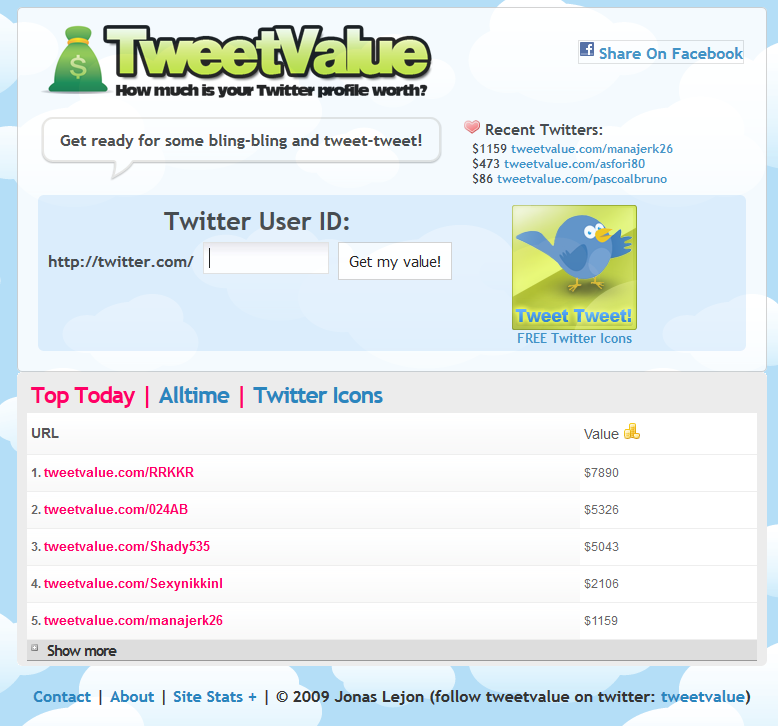 At a first glance, this website seems a lot more professional than Twalue.com, as it actually features a list of previously checked accounts, contact us, and about us pages. Unfortunately, it features the same useless algorithm for checking value, which is dead wrong for all the reasons we have mentioned above. According to Tweetvalue.com (as seen in the screenshot above) @RRKKR is worth over $7000 dollars. We encourage anyone to check that account and really ask yourself why in the world would anyone pay seven grand for such an account, because we have no logical answer to that. We will also skip on the full review of Tweetvalue.com, because this is another useless novelty website created just for fun. Even they don't take their service seriously, as when you click their 'about us' page you will be presented with this gem: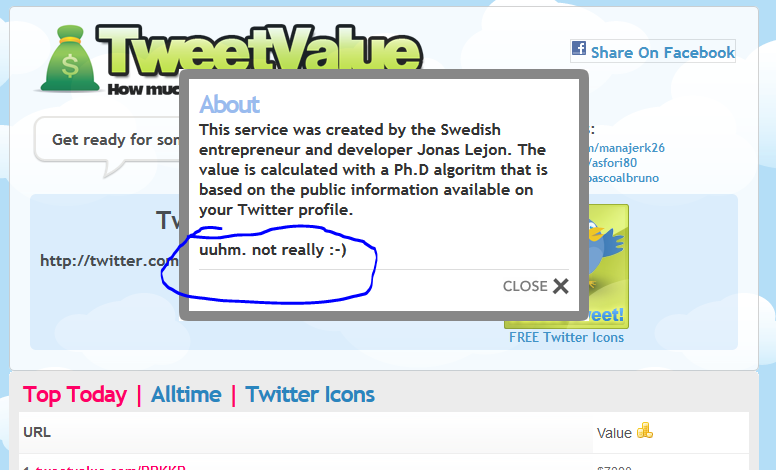 So you see, it is evident that these services don't believe in their very own product, so why should anyone ever use them as legitimate tools for estimating the value of Twitter accounts? Only real human intervention can provide you with genuine estimations, so if you really want to find out the true monetary worth of your Twitter account give us a shot by contacting us today.